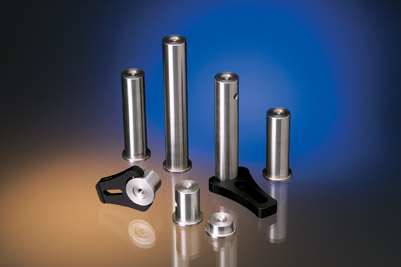 • Rigid one piece design
• Stable top or side mounting
of optical mounts
• Low beam heights achievable
• Stackable
• Ideal riser mount for Precise™ Mirror Mounts
• Exact beam heights in inch and metric sizes
Ealing's StablePillar™ Pedestals provide a fixed height, high stability mounting surface that is ideal for mirror mounts and other optical component mounts. Their one piece design with an integral flanged base and 25 mm diameter body makes them less sensitive to vibrations than conventional half-inch posts. They can be clamped in place anywhere on an optical table using any of Ealing's four types of StablePillar Clamps. StablePillar Pedestals are available in a range of fixed heights that correspond to the most common optical axis heights.
When vertical adjustment of a component or an intermediate height is required component holders can be side-mounted on a carrier and locked in place at the desired height.
Optical axis heights as low as 28 mm can be achieved using the shortest height StablePillar Pedestal which is just 12.5 mm (or 0.5 inch) tall. This 12.5 mm (0.5 inch) pedestal has an M4 (8-32) tapped hole in its base allowing it to be directly mounted to MicroMech™ translation stages or 19 mm Rail Carriers. All other StablePillar Pedestals have larger M6 (or 1⁄4-20) tapped mounting holes in their base allowing for direct mounting to stages, optical tables etc.