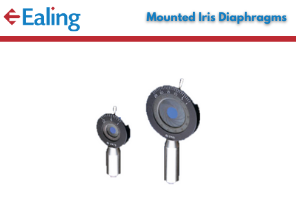 • With graduated scales
• Threaded stud for post mounting
• Metric and Inch versions available
• Continuously variable iris
The Ealing range of Mounted Iris Diaphragms are lever operated and offer a continuous variable diameter aperture in a range of four sizes. Two versions are available, a standard and unmounted iris diaphragms, which have a minimum closed aperture. The standard models are supplied in a black anodized aluminum mount which has a laser engraved scale indicating aperture size. The fixed stud in their base is either M4 or 8-32 (catalog numbers prefixed by 53- have metric M4 studs while 61- denotes an 8-32 inch thread). They can be mounted on a Half-inch Post.