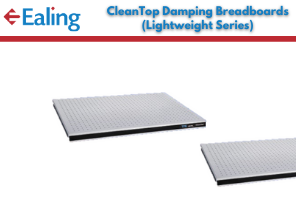 CleanTop Breadboards (Lightweight Series)
• Ultra-lightweight design
• Stainless Steel Top and Bottom Skins
• Formed holes are countersunk and tapped three threads
• Formed holes in top skin add to rigidity
• Lower cost alternative to other models
• CleanTop Spill Proof Hole Design
The CleanTop lightweight series minimize both weight and cost. The formed, tapped holes are countersunk in a thin top of stainless steel. The holes are not drilled or punched, but fabricated in a way that effectively "thickens" the skin in a small ring around the threads. No inserts are used and the tapped holes are three threads deep.
These tops have relatively high levels of rigidity, as they utilize a standard steel core. These breadboards are ideal when light loads are anticipated and low weight and or cost are the most crucial factors. The weight savings (50% less than the standard CleanTop breadboards) is derived only from the lighter gauge skins.

These products are available in the US-Store in many different variations. Please contact us for further information.