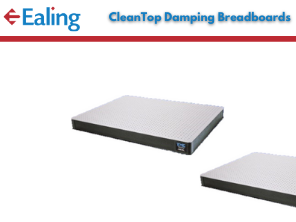 CleanTop Damping Breadboards
•Ideal for Prototyping
•CleanTop Spill Proof Hole Design
•Excellent bases for Optical Instruments
•One level of fixed structural damping
•3/16" (5mm) Skins

The CleanTop Breadboards provide the ultimate in rigidity and damping for smaller tops. Available in 2 in thicknesses (50mm), these tops include a proprietary CleanTop spill proof hole technology and small cell, high-density steel honeycomb core. These breadboards are recommended for virtually all demanding breadboard applications.

These products are available in the US-Store in many different variations. Please contact us for further information.