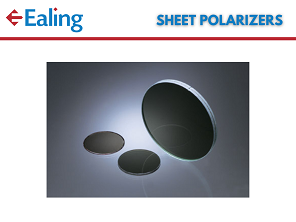 For low power applications, Sheet Polarizers can often provide a simple cost effective solution.
Unpolarized light passing through a Sheet Polarizer emerges as linearly polarized light. Sheet Polarizers are often used in pairs. When the two polarizers have their axes aligned, transmission is at a maximum. When the axes are orthogonal to each other, transmission is nearly zero

These products are only available in the US-Store at the moment. Please contact us for further information.