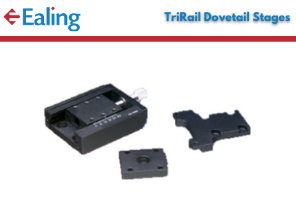 • Ideal for use with TriRail™
• 1-3 axis assemblies
• Compact dovetail slide/leadscrew design
• 25 mm travel with graduated scale
• Side locking screw
• Optical Table or RailMounting

TriRail™ Dovetail Stages
These stages are constructed from machined aluminum and incorporate a dovetail slide/leadscrew design. TriRail Dovetail Stages provide a low cost alternative to the more accurate Linear Translation Stages. They are very versatile, and allow multiple axis assemblies to be built using the hardware described below. These multi-axis assemblies can be attached directly to an optical table via clearance holes in the stage base, or they can be attached to a TriRail carrier. They can also be stacked on top of the our larger Linear Translation Stages.
Dovetail Stage Post Holder Plate
The post holder plate allows Halfinch post holders to be attached to the Dovetail Stage. The plate can be attached to a horizontally or vertically oriented stage as shown in the diagrams opposite giving fine positional adjustment of the post holder in either the horizontal or vertical direction.
Dovetail Stage Vertical Adapter Plate
This adapter plate allows a Dovetail stage to be mounted vertically on top of another Dovetail Stage.