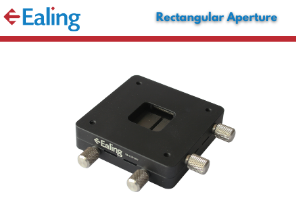 • Four Independent knife-edge blades
• Rectangular or square beam aperture
Rectangular Apertures can be used to define the boundaries of an optical path or to mask out specific areas in an optical system, for example on a test target, monochromator, CCD or a detector. They are constructed from four independently-controlled brass knife edge jaws, that can be adjusted from fully closed to an area 12 mm square on the aperture unit. A separate friction drive to each jaw prevents overdrive and consequent damage to the knife edges. The Rectangular Aperture is available in metric and inch versions and can be mounted onto posts and carriers in the Ealing range.