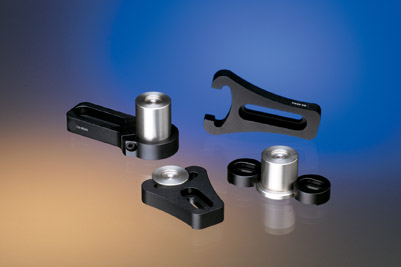 • Rigid Fork Clamps for StablePillar™ pedestals
• Multi-purpose Circular Clamp
• Button Clamp for restricted space
StablePillar™ Clamps are available in four different styles. The first two designs are both "fork type" clamps and are intended for clamping Pedestals firmly to an optical table with either M6 or 1⁄4-20 hole patterns. Two different lengths of the Fork Clamps (60 and 80 mm) are offered. The Circular Clamp can be used with either a StablePillar Pedestal or Extender and can be used for clamping to a table or as a sliding carrier that can clamp at any position along the length of the StablePillar. Button Clamps are ideal for clamping to a surface which has restricted space such as the top plate of a micropositioner or on a small breadboard or platform.