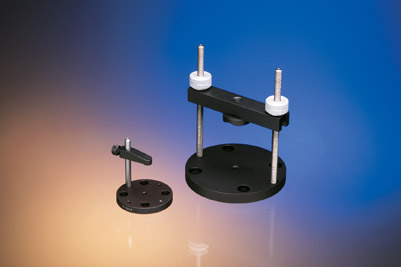 Prism Table
The Ealing Prism Table uses a height-adjustable cross-member or arm to hold the component in place under a pad of soft-faced material.
Kinematic Platform
The Ealing Kinematic Prism and cube beamsplitter mounts are based on the same reliable design as the Kinematic Mirror Mounts. They provide angular adjustments to allow precise alignment of prisms and beamsplitters in optical systems and experiments. There are two designs available. One is a 50 mm (2 inch) square platform that can be horizontally or vertically mounted. It accepts cubes or prisms up to 50 mm (2 inch) in size. The other is a more compact vertically mounted design that accepts up to 25 mm (1 inch) cubes and prisms. Either mount can be post mounted on our standard Half-inch Posts using M4 (8-32) screws and the clearance holes in the mount's base.
Rotary Stage
The Ealing Rotary Stage provides a full 360 degrees of rotation from a stage supported on radial ball bearings. Coarse and fine adjustments are available, allowing initial rotation to be carried out by hand followed by fine adjustment over a range of 6 degrees using the fine adjusting screw. A vernier scale enables the angular position of the table to be read to an accuracy of 30 arcmin, although a minimum incremental movement or resolution of less than 30 arcsec can be achieved with care. Clearance holes in the top plate of this translation stage permit access to mounting holes in the base of the unit.