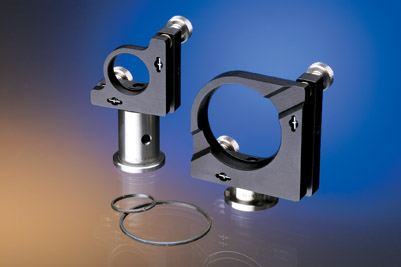 Precise Thin Optic Mounts
• Threaded to allow mountingof thin optics
• L-shaped back plate maximizes clear aperture at 45 degrees
• 100 threads per inch adjusters
• Hex key adjusters
• Hard inserts for long life
• Affordably priced
The Ealing Precise™ Thin Optic Mounts are very similar to the standard Precise™ mirror mounts except these are designed specifically to accept thin, round, front surface mirrors or beamsplitters. Two sizes are available to accept either 1 inch or 2 inch diameter optics.
These mounts provide an excellent, stable and accurate method of mounting thin, round optics. Both mounts incorporate an L-shaped backplate. This is designed to provide the maximum clear aperture at 45 degrees for 1 inch or 2 inch diameter beamsplitters or thin mirrors. Optics are retained in the mount by means of a threaded retaining ring that can be tightened using a spanner wrench.
The clearance mounting holes provided in the L-shaped back plate are designed for universal mounting on almost all manufacturer's hardware – these M4 (8-32) clearance mounting holes are positioned directly below the center of the mounted optic.
Precise Thin Optic Mounts can be mounted on Half-inch posts.