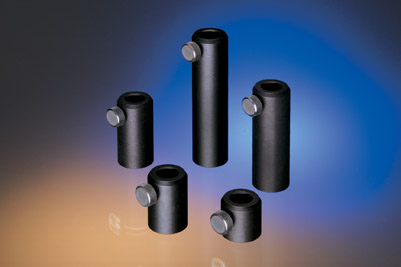 • Smooth height adjustment using thumbscrew
• Ideal for use with Half-inch Posts
• Double bored for precise fit
• Available in Inch or Metric versions
Ealing's range of Half-inch Optical Posts can be supported in a variety of fixed and adjustable mounts. These include our range of fixed length post holders shown here. The post holders in turn may be mounted onto optical tables, breadboards, or metric and inch positioners directly or through one of our mounting bases. The posts then provide fixed or adjustable locations for Ealing's wide range of component mounts including lens holders, Precise™ Mirror Mounts, Prism/Beamsplitter Mounts and Filter Holders. Ealing Half-inch Post Holders are double-bored to provide a groove opposite the knurled locking screw. This gives two-lines of contact for a precision, centered fit on any Half-inch Post. Posts are locked in place by a knurled, spring loaded brass thumb screw located at the top of the Post Holder and drawn in cross section at left. The Post Holders are available in inch or metric versions and in a range of lengths from 25 mm (1 inch) up to 150 mm (6 inches). They attach to the mounting surface by means of a single M6 or 1⁄4-20 screw (supplied).