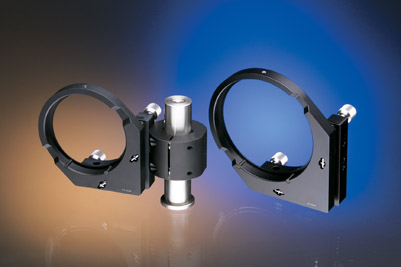 • Kinematic one-piece design specifically for round mirrors or beamsplitters
• Finger cut-outs designed for easy removal of mirrors
• 80 threads per inch adjusters
• Nylon tipped mirror locking screw
• Hex key adjusters
These Ealing Kinematic Mirror Mounts are designed to accept round, front surface mirrors or beamsplitters of either 3 inch or 4 inch diameter. These simple mirror mounts provide an excellent, stable and accurate method of mounting large round optics. Mirrors are retained in the mount by two delrin inserts and a nylon tipped set screw. The holes provided are designed for universal mounting on almost all hardware.

The M4 (8-32) clearance mounting holes are positioned directly below the center of the mounted mirror.

These mounts can be bottom mounted on a post or alternatively they can be side mounted on a rod system.