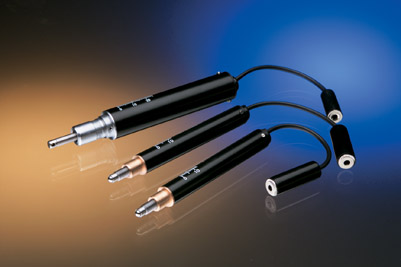 • Four travel ranges 10 mm, 13 mm, 25 mm, and 50 mm
• Open loop sub-micrometer motorized control
• Two speed operation
Linear Actuators are available with travel ranges of 10 mm, 13 mm, 25 mm, and 50 mm (0.375 inch, 0.5 inch, 1 inch, and 2 inches) to suit the various micrometer-driven stages. The 10 mm travel unit is miniaturized to have a body diameter of only 12.7 mm (0.5 inch). Longer travel units are still compact for motorized drivers at 19 mm (0.75 inch) diameter.
The 10 mm miniature actuator is fitted with a spherical tip that is not interchangeable. All others feature interchangeable spherical or flat tips, both are supplied with the units.