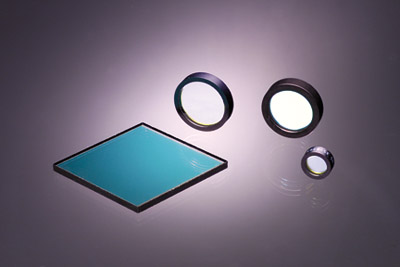 • Short-pass and long-pass for a wide range of wavelengths
• Very sharp cut-on and cut-off
• Attenuation >99% average within specified range
• May be combined to form custom bandpass filters
• Supplied with spectrophotometer traces
Edgepass filters are called short-pass or long-pass according to whether they transmit below or above their transition wavelength. Our Short-wave and Long-wave Pass Filters exhibit a sharp transition from a spectral region of attenuation to one of transmission. Because they attenuate by reflection, these filters can be used in either the transmissive or the reflective mode.
Transition wavelength, or cut-on/off wavelength (COWL) is the wavelength at which the transmission is 50% of its peak value. The sharpness of an edge pass filter is defined by a slope factor which is expressed as a percentage: The value of edge filters is in rejecting unwanted wavelengths. For this reason they must be effectively blocked over a wide spectral range (see tables for specifications). Ealing edgepass filters attenuate >99% average within the specified range.
A common use for edgepass filters is to combine them with a filter or detector response in order to define a wavelength range. They may be used to separate spectral orders, and in pairs as variable bandpass filters. They may also be used as heat or UV filters. Measured spectrophotometer traces are supplied with each filter.
We will be pleased to discuss your specific requirements for filters not listed in this catalog and to quote for your volume OEM requirements.