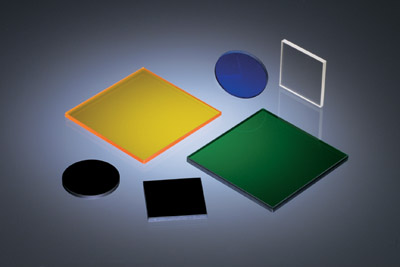 • Wide variety of applications
• Standard Schott glasses for repeatability
• 2" square or 1" round sizes
• Filter mounts also available
Absorbing glass filters are the simplest form of color filter. The transmittance curves for each type of glass are well known and repeatable. Thickness of the filter defines the actual transmission. These filters are ground to a specified thickness and polished to produce a given spectral transmission which is found by applying the correction factor in the table to the diagrams which follow. For filters of different thickness it is necessary to recompute the transmission using the following formula:
T = P(τ1 (λ))d/do
T = Total filter transmittance
P = Correction factor
τ1(λ) = Transmittance at wavelength λ
d = Thickness in millimeters of the Ealing filter required.
do = Thickness in millimeters indicated above the curve for the material.
In colored glass filters the only effect of tilt is an increase in path length through the filter. For angles of incidence (Ø) less than the Brewster angle (appx 57o), the new thickness can be calculated as follows:
tØ= tO * n/(√1-sin2Ø)
Temperature change is of little concern in the application of colored glass filters. However, there is a small shift which could affect the performance of sharp cut filters in some circumstances. Normal operating temperature is 23oC.
Part #
Product Description
Price
In Stock
QTY

Add to Cart

26-5611-000
50.8mm Square, CG Filter, BG-3

Yes

26-2998-000
50.8mm Square, CG Filter, BG-38

Yes

26-6668-000
50.8mm Square, CG Filter, BG-39

Regular Price

€67.00

Special Price

€32.50

Yes

26-4242-000
50.8mm Square, CG Filter, GG-400

Yes

26-4275-000
50.8mm Square, CG Filter, GG-435

Yes

26-4283-000
50.8mm Square, CG Filter, GG-455

Yes

26-4291-000
50.8mm Square, CG Filter, GG-475

Yes

26-3681-000
50.8mm Square, CG Filter, KG-3

Yes

26-4366-000
50.8mm Square, CG Filter, OG-550

Yes

26-4374-000
50.8mm Square, CG Filter, OG-570

Yes

26-4473-000
50.8mm Square, CG Filter, RG-1000

Yes

26-4390-000
50.8mm Square, CG Filter, RG-610

Yes

26-4416-000
50.8mm Square, CG Filter, RG-630

Regular Price

€69.00

Special Price

€34.50

Yes

26-4424-000
50.8mm Square, CG Filter, RG-645

Yes

26-4440-000
50.8mm Square, CG Filter, RG-695

Yes

26-4457-000
50.8mm Square, CG Filter, RG-715

Yes

26-9589-000
50.8mm Square, CG Filter, RG-850

Regular Price

€72.00

Special Price

€36.00

26-4622-000
50.8mm Square, CG Filter, WG-295

Regular Price

€69.00

Special Price

€34.50

Yes

26-5678-000
Color Glass Filter, BG-18, 50.8mm, Square

Regular Price

€54.00

Special Price

€27.00

Yes

36-9231-000
Color Glass Filter, BG-18, ∅25.4mm

Regular Price

€22.00

Special Price

€11.00

Yes

36-9207-000
∅25.4 mm, CG Filter, BG-3

Yes

36-9322-000
∅25.4 mm, CG Filter, BG-39

Regular Price

€34.00

Special Price

€17.00

Yes

36-9371-000
∅25.4 mm, CG Filter, GG-395

Yes

36-9389-000
∅25.4 mm, CG Filter, GG-400

Yes

36-9397-000
∅25.4 mm, CG Filter, GG-420

Regular Price

€26.00

Special Price

€13.00

Yes

36-9405-000
∅25.4 mm, CG Filter, GG-435

Yes

36-9413-000
∅25.4 mm, CG Filter, GG-455

Yes

36-9421-000
∅25.4 mm, CG Filter, GG-475

Yes

36-9439-000
∅25.4 mm, CG Filter, GG-495

Yes

36-9447-000
∅25.4 mm, CG Filter, KG-1

Yes

36-9470-000
∅25.4 mm, CG Filter, KG-5

Regular Price

€26.00

Special Price

€13.00

36-9579-000
∅25.4 mm, CG Filter, OG-530

Yes

36-9587-000
∅25.4 mm, CG Filter, OG-550

Regular Price

€32.00

Special Price

€16.00

Yes

36-9595-000
∅25.4 mm, CG Filter, OG-570

Yes

36-9603-000
∅25.4 mm, CG Filter, OG-590

Yes

36-9710-000
∅25.4 mm, CG Filter, RG-1000

Yes

36-9637-000
∅25.4 mm, CG Filter, RG-630

Yes

36-9645-000
∅25.4 mm, CG Filter, RG-645

Regular Price

€26.00

Special Price

€13.00

Yes

36-9652-000
∅25.4 mm, CG Filter, RG-665

Yes

36-9660-000
∅25.4 mm, CG Filter, RG-695

Yes

36-9686-000
∅25.4 mm, CG Filter, RG-780

Yes

36-9611-000
∅25.4 mm, CG Filter, RG-9

Yes

36-9785-000
∅25.4 mm, CG Filter, WG-295

Regular Price

€32.00

Special Price

€16.00

Yes

36-9793-000
∅25.4 mm, CG Filter, WG-305

Regular Price

€32.00

Special Price

€16.00

Yes

36-9801-000
∅25.4 mm, CG Filter, WG-320

Regular Price

€32.00

Special Price

€16.00

Yes