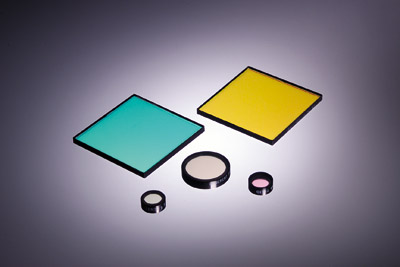 • Precise control of center wavelength and bandpass shape
• Wide selection of stock wavelengths from 250 nm-1550 nm
• Selection of bandwidths
• Available in 1/2" and 1" sizes
• High peak transmission values
• Excellent blocking from UV to IR
• Sealed design provides long term stability
Essentially a stack of Fabry-Perot cavities, these filters select the transmitted spectrum by constructive and destructive interference at the boundaries between high and low index dielectric layers. Several cavities may be combined to produce a sharper cut-off and to alter the shape of the passband. Two three and four cavity designs are commonly used in these filters according to the specifications required. Absorbing and reflecting layers are also included in the stack to block the transmission of unwanted wavelengths over a wide spectrum from near UV to far IR. When selecting a filter always be certain to consider the spectral characteristics of the source and detector in use. These should be combined with the filter curve to obtain the resulting spectral response of the system.
*FWHM = Full Width at Half Maximum, CWL = Cutoff Wavelength
Part #
Product Description
Price
In Stock
QTY

Add to Cart

35-4452-000
∅25.4 mm IR Bandpass Filter, CWL = 830.0 ± 8.0 nm, FWHM = 40 ± 8 nm
35-4449-000
∅25.4 mm IR Bandpass Filter, CWL = 830.0 ± 2.0 nm, FWHM = 10 ± 2 nm
42-5736-000
∅12.7 mm IR Bandpass Filter, CWL = 820.0 ± 2.0 nm, FWHM = 10 ± 2 nm
35-4407-000
∅25.4 mm IR Bandpass Filter, CWL = 810.0 ± 2.0 nm, FWHM = 10 ± 2 nm
42-5728-000
∅12.7 mm IR Bandpass Filter, CWL = 810.0 ± 2.0 nm, FWHM = 10 ± 2 nm
42-5751-000
∅12.7 mm IR Bandpass Filter, CWL = 830.0 ± 8.0 nm, FWHM = 40 ± 8 nm
42-5769-000
∅12.7 mm IR Bandpass Filter, CWL = 840.0 ± 2.0 nm, FWHM = 10 ± 2 nm
42-5785-000
∅12.7 mm IR Bandpass Filter, CWL = 855 ± 8.0 nm, FWHM = 40 ± 8 nm
42-5801-000
∅12.7 mm IR Bandpass Filter, CWL = 880.0 ± 2.0 nm, FWHM = 10 ± 2 nm
35-4548-000
∅25.4 mm IR Bandpass Filter, CWL = 880.0 ± 2.0 nm, FWHM = 10 ± 2 nm
42-5819-000
∅12.7 mm IR Bandpass Filter, CWL = 880.0 ± 8.0 nm, FWHM = 40 ± 8 nm
35-4969-000
∅25.4 mm IR Bandpass Filter, CWL = 880.0 ± 8.0 nm, FWHM = 40 ± 8 nm
42-5843-000
∅12.7 mm IR Bandpass Filter, CWL = 905.0 ± 8.0 nm, FWHM = 50 ± 8 nm

Yes

35-4985-000
∅25.4 mm IR Bandpass Filter, CWL = 905.0 ± 8.0 nm, FWHM = 50 ± 8 nm

Yes

35-4944-000
∅25.4 mm IR Bandpass Filter, CWL = 1064.0 + 3.0/ - 0 nm, FWHM = 10 ± 2 nm

Yes
Part #
Product Description
Price
In Stock
QTY

Add to Cart

42-5035-000
∅12.7 mm Visible Bandpass Filter, CWL = 390.0 ± 2.0 nm, FWHM = 10 ± 2 nm

Yes

35-3089-000
∅25.4 mm Visible Bandpass Filter, CWL = 390.0 ± 2.0 nm, FWHM = 10 ± 2 nm
35-3092-000
∅25.4 mm Visible Bandpass Filter, CWL = 390.0 ± 2.0 nm, FWHM = 10 ± 2 nm
42-5041-000
∅12.7 mm Visible Bandpass Filter, CWL = 400.0 ± 2.0 nm, FWHM = 10 ± 2 nm

Yes

42-5058-000
∅12.7 mm Visible Bandpass Filter, CWL = 404.7 + 3.0/ - 1.0 nm, FWHM = 10 ± 2 nm
42-5066-000
∅12.7 mm Visible Bandpass Filter, CWL = 410.0 ± 2.0 nm, FWHM = 10 ± 2 nm
42-5082-000
∅12.7 mm Visible Bandpass Filter, CWL = 420.0 ± 2.0 nm, FWHM = 10 ± 2 nm
42-5090-000
∅12.7 mm Visible Bandpass Filter, CWL = 430.0 ± 2.0 nm, FWHM = 10 ± 2 nm
35-3300-000
∅25.4 mm Visible Bandpass Filter, CWL = 430.0 ± 2.0 nm, FWHM = 10 ± 2 nm
35-3326-000
∅25.4 mm Visible Bandpass Filter, CWL = 435.8 + 3.0/ - 1.0 nm, FWHM = 10 ± 2 nm
42-5116-000
∅12.7 mm Visible Bandpass Filter, CWL = 440.0 ± 2.0 nm, FWHM = 10 ± 2 nm
42-5119-000
∅12.7 mm Visible Bandpass Filter, CWL = 441.6 + 3.0/ - 1.0nm, FWHM = 10 ± 2 nm
35-3345-000
∅25.4 mm Visible Bandpass Filter, CWL = 441.6 + 3.0/ - 1.0nm, FWHM = 10 ± 2 nm
42-5124-000
∅12.7 mm Visible Bandpass Filter, CWL = 450.0 ± 2.0 nm, FWHM = 10 ± 2 nm

Yes

35-5024-000
∅25.4 mm Visible Bandpass Filter, CWL = 450.0 ± 8.0 nm, FWHM = 40 ± 8 nm

Yes

42-5157-000
∅12.7 mm Visible Bandpass Filter, CWL = 460.0 ± 2.0 nm, FWHM = 10 ± 2 nm
42-5173-000
∅12.7 mm Visible Bandpass Filter, CWL = 480.0 ± 2.0 nm, FWHM = 10 ± 2 nm

Yes

42-5181-000
∅12.7 mm Visible Bandpass Filter, CWL = 488.0 + 3.0/ - 1.0 nm, FWHM = 10 ± 2 nm

Yes

35-3466-000
∅25.4 mm Visible Bandpass Filter, CWL = 488.0 + 3.0/ - 1.0 nm, FWHM = 10 ± 2 nm
35-3482-000
∅25.4mm Visible Bandpass Filter, CWL = 490.0 ± 2.0nm, FWHM = 10 ± 2 nm
42-5207-000
∅12.7 mm Visible Bandpass Filter, CWL = 500.0 ± 2.0 nm, FWHM = 10 ± 2 nm

Yes

35-3508-000
∅25.4 mm Visible Bandpass Filter, CWL = 500.0 ± 2.0 nm, FWHM = 10 ± 2 nm
42-5215-000
∅12.7 mm Visible Bandpass Filter, CWL = 500.0 ± 8.0 nm, FWHM = 40 ± 8 nm

Yes

42-6999-000
∅12.7 mm Visible Bandpass Filter, CWL = 500.0 ± 8.0 nm, FWHM = 70 ± 8 nm
42-5231-000
∅12.7 mm Visible Bandpass Filter, CWL = 514.5 + 3.0/ - 1.0 nm, FWHM = 10 ± 2 nm

Yes

35-3565-000
∅25.4 mm Visible Bandpass Filter, CWL = 514.5 + 3.0/ - 1.0 nm, FWHM = 10 ± 2 nm
42-5249-000
∅12.7 mm Visible Bandpass Filter, CWL = 520.0 ± 2.0 nm, FWHM = 10 ± 2 nm
42-5256-000
∅12.7 mm Visible Bandpass Filter, CWL = 530.0 ± 2.0 nm, FWHM = 10 ± 2 nm
42-5264-000
∅12.7 mm Visible Bandpass Filter, CWL = 532.0 + 3.0/ - 1.0 nm, FWHM = 10 ± 2 nm

Yes

35-3623-000
∅25.4 mm Visible Bandpass Filter, CWL = 532.0 + 3.0/ - 1.0 nm, FWHM = 10 ± 2 nm
42-5272-000
∅12.7 mm Visible Bandpass Filter, CWL = 540.0 ± 2.0 nm, FWHM = 10 ± 2 nm
35-3649-000
∅25.4 mm Visible Bandpass Filter, CWL = 540.0 ± 2.0 nm, FWHM = 10 ± 2 nm
35-3664-000
∅25.4mm Visible Bandpass Filter, CWL = 546.1 + 3.0, - 1.0 nm, FWHM = 10 ± 2 nm
35-3680-000
∅25.4 mm Visible Bandpass Filter, CWL = 550.0 ± 2.0 nm, FWHM = 10 ± 2 nm
42-5306-000
∅12.7 mm Visible Bandpass Filter, CWL = 550.0 ± 8.0 nm, FWHM = 40 ± 8 nm
42-7039-000
∅12.7 mm Visible Bandpass Filter, CWL = 550.0 ± 8.0 nm, FWHM = 70 ± 8 nm

Yes

42-8292-000
∅12.7 mm Visible Bandpass Filter, CWL = 550 nm, FWHM = 40 ± 8 nm
42-7047-000
∅12.7 mm Visible Bandpass Filter, CWL = 568.2 ± 2.0 nm, FWHM = 10 ± 2 nm
42-5322-000
∅12.7 mm Visible Bandpass Filter, CWL = 570.0 ± 2.0 nm, FWHM = 10 ± 2 nm
35-3722-000
∅25.4 mm Visible Bandpass Filter, CWL = 570.0 ± 2.0 nm, FWHM = 10 ± 2 nm
35-3748-000
∅25.4 mm Visible Bandpass Filter, CWL = 577.0 + 3.0/ - 1.0 nm, FWHM = 10 ± 2 nm
42-5348-000
∅12.7 mm Visible Bandpass Filter, CWL = 580.0 ± 2.0 nm, FWHM = 10 ± 2 nm
42-5355-000
∅12.7 mm Visible Bandpass Filter, CWL = 589.3 + 3.0/ - 1.0 nm, FWHM = 10 ± 2 nm
35-3789-000
∅25.4 mm Visible Bandpass Filter, CWL = 589.3 + 3.0/ - 1.0 nm, FWHM = 10 ± 2 nm
42-5363-000
∅12.7 mm Visible Bandpass Filter, CWL = 590.0 ± 2.0 nm, FWHM = 10 ± 2 nm

Yes

35-3805-000
∅25.4 mm Visible Bandpass Filter, CWL = 590.0 ± 2.0 nm, FWHM = 10 ± 2 nm
42-5371-000
∅12.7 mm Visible Bandpass Filter, CWL = 600.0 ± 2.0 nm, FWHM = 10 ± 2 nm
35-3821-000
∅25.4 mm Visible Bandpass Filter, CWL = 600.0 ± 2.0 nm, FWHM = 10 ± 2 nm
42-5389-000
∅12.7 mm Visible Bandpass Filter, CWL = 600.0 ± 8.0 nm, FWHM = 40 ± 8 nm
42-5397-000
∅12.7 mm Visible Bandpass Filter, CWL = 610.0 ± 2.0 nm, FWHM = 10 ± 2 nm
35-3847-000
∅25.4 mm Visible Bandpass Filter, CWL = 610.0 ± 2.0 nm, FWHM = 10 ± 2 nm
42-5405-000
∅12.7 mm Visible Bandpass Filter, CWL = 620.0 ± 2.0 nm, FWHM = 10 ± 2 nm
35-3862-000
∅25.4 mm Visible Bandpass Filter, CWL = 620.0 ± 2.0 nm, FWHM = 10 ± 2 nm
42-5413-000
∅12.7 mm Visible Bandpass Filter, CWL = 630.0 ± 2.0 nm, FWHM = 10 ± 2 nm

Yes

35-3888-000
∅25.4 mm Visible Bandpass Filter, CWL = 630.0 ± 2.0 nm, FWHM = 10 ± 2 nm
42-5421-000
∅12.7 mm Visible Bandpass Filter, CWL = 632.8 + 3.0/ - 1.0 nm, FWHM = 10 ± 2 nm (50% Min. Peak Trans.)
35-3904-000
∅25.4 mm Visible Bandpass Filter, CWL = 632.8 + 3.0/ - 1.0 nm, FWHM = 10 ± 2 nm (50% Min. Peak Trans.)
42-5439-000
∅12.7 mm Visible Bandpass Filter, CWL = 632.8 + 3.0/ - 1.0 nm, FWHM = 10 ± 2 nm (75% Min. Peak Trans.)
35-4126-000
∅25.4 mm Visible Bandpass Filter, CWL = 632.8 + 3.0/ - 1.0 nm, FWHM = 10 ± 2 nm (75% Min. Peak Trans.)
42-5454-000
∅12.7 mm Visible Bandpass Filter, CWL = 640.0 ± 2.0 nm, FWHM = 10 ± 2 nm
35-3920-000
∅25.4 mm Visible Bandpass Filter, CWL = 640.0 ± 2.0 nm, FWHM = 10 ± 2 nm

Yes

42-5470-000
∅12.7 mm Visible Bandpass Filter, CWL = 650.0 ± 2.0 nm, FWHM = 10 ± 2 nm

Yes

35-3961-000
∅25.4 mm Visible Bandpass Filter, CWL = 650.0 ± 2.0 nm, FWHM = 10 ± 2 nm
42-5488-000
∅12.7 mm Visible Bandpass Filter, CWL = 650.0 ± 8.0 nm, FWHM = 40 ± 8 nm
35-5107-000
∅25.4 mm Visible Bandpass Filter, CWL = 650.0 ± 8.0 nm, FWHM = 40 ± 8 nm
42-5496-000
∅12.7 mm Visible Bandpass Filter, CWL = 656.3 + 3.0/ - 1.0 nm, FWHM = 10 ± 2 nm
35-3987-000
∅25.4 mm Visible Bandpass Filter, CWL = 656.3 + 3.0/ - 1.0 nm, FWHM = 10 ± 2 nm
42-5504-000
∅12.7 mm Visible Bandpass Filter, CWL = 660.0 ± 2.0 nm, FWHM = 10 ± 2 nm
35-4001-000
∅25.4 mm Visible Bandpass Filter, CWL = 660.0 ± 2.0 nm, FWHM = 10 ± 2 nm
42-7377-000
∅25.4 mm Visible Bandpass Filter, CWL = 660.0 ± 8.0 nm, FWHM = 40 ± 2 nm
42-5512-000
∅12.7 mm Visible Bandpass Filter, CWL = 670.0 ± 2.0 nm, FWHM = 10 ± 2 nm

Yes

35-4027-000
∅25.4 mm Visible Bandpass Filter, CWL = 670.0 ± 2.0 nm, FWHM = 10 ± 2 nm
42-5520-000
∅12.7 mm Visible Bandpass Filter, CWL = 670.0 ± 2.0 nm, FWHM = 10 ± 2 nm
42-7385-000
∅25.4 mm Visible Bandpass Filter, CWL = 670.0 ± 2.0 nm, FWHM = 10 ± 2 nm
42-5538-000
∅12.7 mm Visible Bandpass Filter, CWL = 670.0 ± 8.0 nm, FWHM = 40 ± 8 nm

Yes

42-7393-000
∅25.4 mm Visible Bandpass Filter, CWL = 670.0 ± 8.0 nm, FWHM = 40 ± 8 nm
42-5541-000
∅12.7 mm Visible Bandpass Filter, CWL = 675.0 ± 2.0 nm, FWHM = 10 ± 2 nm
42-5549-000
∅12.7 mm Visible Bandpass Filter, CWL = 685.0 ± 2.0 nm, FWHM = 10 ± 2 nm
35-4084-000
∅25.4 mm Visible Bandpass Filter, CWL = 690.0 ± 2.0 nm, FWHM = 10 ± 2 nm
42-5579-000
∅12.7 mm Visible Bandpass Filter, CWL = 700.0 ± 2.0 nm, FWHM = 10 ± 2
35-5123-000
∅25.4 mm Visible Bandpass Filter, CWL = 700.0 ± 8.0 nm, FWHM = 40 ± 8
42-5595-000
∅12.7 mm Visible Bandpass Filter, CWL = 710.0 ± 2.0 nm, FWHM = 10 ± 2
42-5629-000
∅12.7 mm Visible Bandpass Filter, CWL = 730.0 ± 2.0 nm, FWHM = 30 ± 8

Yes

42-5645-000
∅12.7 mm Visible Bandpass Filter, CWL = 750.0 ± 2.0 nm, FWHM = 10 ± 2
42-5663-000
∅12.7 mm Visible Bandpass Filter, CWL = 766.5 + 3.0/ - 1.0 nm, FWHM = 10 ± 2
35-7285-000
∅25.4 mm Visible Bandpass Filter, CWL = 766.5 + 3.0/ - 1.0 nm, FWHM = 10 ± 2
35-4340-000
∅25.4 mm Visible Bandpass Filter, CWL = 780.0 + 3.0/ - 1.0 nm, FWHM = 10 ± 2

Yes